ACTIVITIES
PROGRAM DESCRIPTION
Our Programs are based on the well known principle that " prevention is better than cure". For this reason the Center offers free seminars to reinforce healthy lifestyle changes. Patients with chronic diseases or conditions experience improved long term benefits when medical treatments are accompanied by healthy habits and lifestyle changes.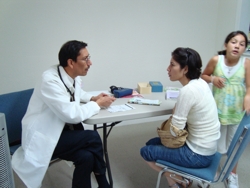 POPULATION SERVED
Our Center serves individuals of all ages from the Yucaipa Valley. Everyone is welcome.
FOOD BANK
Our Food Bank provides nutritional foods to pre-registered individuals and their families.
HOURS OF SERVICE
Classes and Health Seminars: Friday 7:00 - 8:30 p.m.
Health Fair (1-2 per year): Saturday 3:00 - 6:00 p.m.
Medical Consultations (by appointment only): Friday 6:30 - 8:00 p.m